Mont Blanc
Types: Alpine, Climbing and Mountaineering, International
Region: International
Spend a week in the homeland of alpinism! Mont Blanc, at 4810M, it the highest mountain in western Europe and one of the most famous peaks in the world.
Mont Blanc
Mont Blanc attracts aspiring and experienced mountaineers from all over the world, seeking the physically demanding yet rewarding right of this iconic mountain.
The trip starts with a threes of instruction and preparation to review technical climbing skills including walking in crampons self arrest, using an ice axe and so on. Of course this is done while climbing some of the best introductory climbs that Europe has to offer! This ensures that you'll be well acclimatized and prepared for your summit attempt. That then allows us another three days for your Mont Blanc summit climb which allows some extra time to account for poor weather or other issues while maximizing your chance of success. It also allows for some more fun climbing during your stay!
Our European weeks are inclusive, offering everything you need from the start to the finish of your summit attempt. Small group guiding guarantees your safety and an unbeatable experience.
Waiver & Risk Management:
As you know, outdoor activities involve numerous hazards including, but not limited to, avalanches, crevasses, rockfall, slips and falls, equipment failure, poor weather, etc. And while we do our best to anticipate and mitigate these hazards we cannot completely eliminate them. So, as with anything fun, you will be required to sign our Participant Release to take part in one of our courses or trips.
Custom Dates Available
Just let us know what dates will work for you and we will put together a custom package.
Day 0.5: We will have a car pick you up at the Geneva airport to transfer you to our base in Chamonix. Upon arrival, we will check gear and go over the plans for the week.
Day 1: To shake off the jet lag and start getting acclimatized, we will head up the valley to the Grand Montet lift in the Argentiere village. A quick gondola lift will take us to 3200m and in perfect striking distance to the Petit Aiguille Verte, mixed snow and rock ridge in an absolutely wild setting.
Day 2: 8 am, we depart for the Aiguille du Midi, where the highest gondola in Europe will take us to 3810m and into the heart of the Mont Blanc massive. The rest of the day will be spent travelling across the Valle Blanch to the Torino hut on the Italian/French border. Expect a 7 hour day of glacier travel, spectacular views and instruction.
Day 3: Alpine start – 5 am we will head back to the French side of the range and climb the classic rock scrambling ridge, Aiguille d' Entreves, or Aiguille du Tourville and back to the Torino Hut,
Day 4: Another Alpine start will put us in a good position to make an ascent of the Aiguille to Roche-forte and wild snow ridge climb on France and Italy's border. For those with a rock climbing background, an ascent of the Dent Du Geant will be possible (5.7 5pitches). Back to Chamonix in PM.
Day 5: A civilized start to the day, we will head back up the Aiguille du Midi and over to the Cosmiques Refuge for the night. The Cosmiques Refuge is at the base of the Trois Monts Route on Mont Blanc and will provide us with the best position to make a summit attempt the next day. This day can be flexible, depending on energy levels. There are many peak options along the way to the hut.
Day 6: 1 am breakfast! Climbing by 2 am. We will ascent the Trois Mont route, first up the Tacul to 4020m, then off the technical crux of the day Mont Maudit 4400m where we will climb a snow/ice face to 70' And finally off the to Mont Blanc summit 4810. You can expect a very long day (10 – 14 h ). Depending on our timing, we will either return to the Valley or spend another night at the Cosmiques Refuge
Day 7: Flex day. As it can be very difficult to time your ascent of Mont Blanc with the weather. Our programs build in flexibility on both sides of our scheduled summit attempt. Friday can be used to summit or for one of the many classic options around Chamonix: index, Cosmiques arête, Midi-plan traverse, Rock climbing in the valley.
Return home. Transportation will be provided to Geneva airport at your convenience.
Activities and Add-Ons for this Course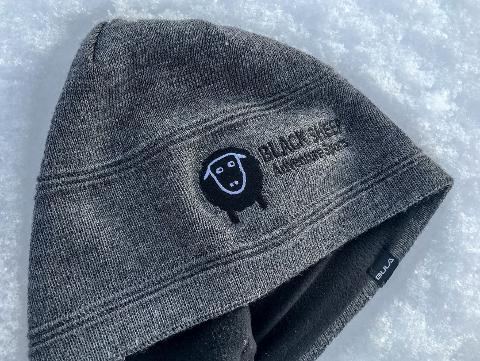 BlackSheep Merino Wool Toque (Beanie)
$35.00
A beautiful fleece lined merino wool toque. They come in black and grey though colours are subject to availability.